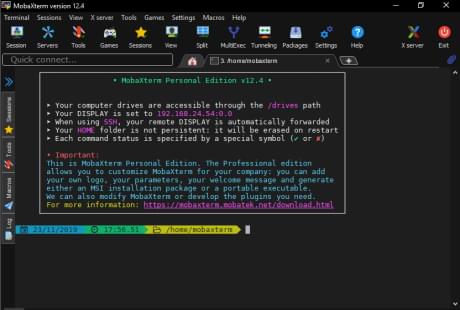 MobaXterm new version 12.4
Hi everyone!
We have just released a new major version of MobaXterm (12.4)!
MobaXterm is your ultimate toolbox for remote computing: in a single Windows application, it provides loads of functions that are tailored for programmers, webmasters, IT administrators and pretty much all users who need to handle their remote jobs in a more simple fashion. MobaXterm provides all the important remote network tools (SSH, X11, RDP, VNC, FTP, MOSH, …) to Windows desktop, in a single portable exe file which works out of the box.
This release comes with a new dark theme feature. Don't wait and enable it from the general settings window of MobaXterm. We hope you will enjoy this new theme!
Besides these additions and improvements we have fixed several bugs that you have reported. As usual, your feedback is greatly appreciated!
Full changelog:
version 12.4:
New feature: added a new "dark theme" which is much more reactive than the old skins as it is based on Windows native controls
Improvement: increased the SSH-browser sorting speed, in order to avoid MobaXterm slowdowns when listing folders contents
Improvement: color of the "+" button on the tabs bar changes when mouse hovers it
Improvement: themes can now be applied from the global settings window without restarting MobaXterm
Improvement: enhanced drawing speed of files and folders icons into SSH-browser
Improvement: improvements in popup windows for better compatibility with multiple monitors
Improvement: enhanced graphical controls painting speed when their background is not transparent
Improvement: better detection of core files which had been created with another account and are not writable
Improvement: eliminated some flickering effects from the tabs-based graphical components
Bugfix: prevented SSH-browser to switch to SCP mode when using keyboard-interactive authentication without 2 factor authentication
Bugfix: prevented some issues when running MobaXterm from OneDrive folder and using it with several different computers or accounts
Bugfix: when ctrl+clicking on an URL into the terminal, the URL was not properly detected if its last character was a slash
You can download this new release from MobaXterm website.
We wanted to say a big thanks to you all. We realize that many of you love working with MobaXterm and we are proud to receive many emails with such positive feedback. This is very motivating for us, thank you!
We hope you will enjoy working with this new version of MobaXterm!